The Second Middle East Congress on Rhinology and Facial Plastic Surgery (MERC2010) will be held in Tehran at November 17th-19th 2010, the best seasonal time. In November, weather in Tehran is pleasant and mild, temperatures are between 14-18 C. English will be the official language of the Congress. In this meeting experts from all around the world will graciously share their newest experiences and innovations in the fields of Rhinology and Facial Plastic Surgery.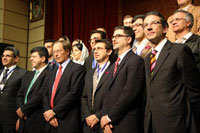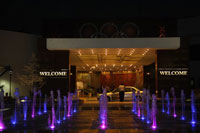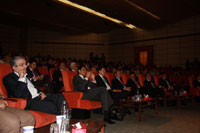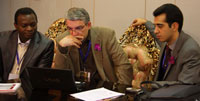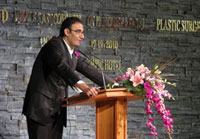 Description of Photos:
1. Professor Reza Award for the outstanding pioneers of rhinology and facial plastic surgery in the Middle East.
2. Most of the MERC2010 international faculty were from the United States.
3. International convention center of Tehran Olympic Hotel was the nice venue of the meeting.
4. Iranian folk dance at the closing ceremony
5. Rastak folk music band at the Persian Evening
6. Some of the MERC2010 Faculty From left to right: Drs Mohsen Naraghi (Congress President), Amir Moradi (USA), Fazil Apaydin (Turkey), Rollin Daniel (USA), Sam Most (USA), Hannes Braun (Austria), Ozcan Cakmak (Turkey), Ramtin Kassir (USA)
7. Drs Alain Fabrise Sonto, Mohsen Naraghi (Congress President) and Amir Hooshang Omidvari preparing for video live surgery.
8. Welcoming by Dr. Masoud Boroojerdi, manager of the executive committee
9. Faculty dinner in a traditional Persian restaurant with traditional live music.