Prof. Reza Award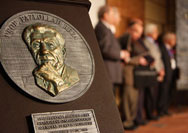 The opening ceremony provides an opportunity to honor many meeting attendees who contribute to the subspecialty of rhinology and facial plastic surgery.
During this ceremony, Prof. Fazlollah Reza Award will be presented to three of pioneer colleagues to tribute their scientific and professional efforts in our specialty.
Prof. Fazlollah Reza, the most prominent Iranian professor in 20th century and ex-president of Tehran University also will attend as the honorary guest.