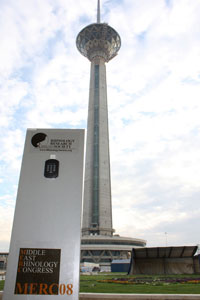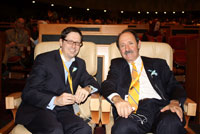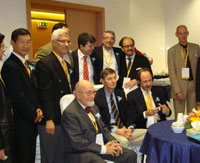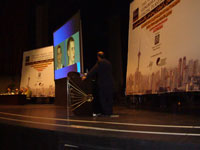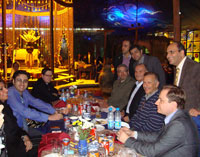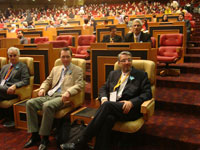 The First Middle East Congress on Rhinology and Facial Plastic Surgery – MERC08
Venue: Tehran Milad Tower Convention Center, Iran.
Date: 4-7 November 2008

From 4th to 7th of November 2008 more than 1500 rhinologists, facial plastic surgeons and otolaryngologists from 26 countries attended the First Middle East Congress on Rhinology and Facial Plastic Surgery in Tehran, the nice capital of Iran. This meeting took place in Milad Tower Convention Center, the fourth tallest tower in the world. The participants were mostly Middle East otolaryngologists but there were also significant number of participants from European, American and African countries which traveled long distance from countries such as Brazil to participate in this unique event of the Middle East. The official language of conference was English. The conference was held by the Rhinology Research Society an international nongovernmental organization established to promote knowledge, practice and ethics in rhinology.
The society has members from different countries and different subspecialties including Rhinology, Facial Plastic Surgery, Skull Base Surgery, Maxillofacial Surgery, Facial Cosmetology and encourages research in rhinology and related fields in head and face. RRS helps higher education in rhinology with results in the best patient care in nose, sinuses, face and skull base disorders. The Rhinology Research Society provides meetings, symposiums, workshops and research grants in rhinology while promotes health care in nose, face and related structures through public educational publications.
Elite foreign guest speakers of MERC2008 were well known experts in different aspects of rhinology and facial plastic surgery. Among them were international instructors such as Drs Fazil Apaydin (Turkey), Jan Gosapeth (Germany), Evert Hamans (Belgium), Reda Kamel (Egypt), Martin Kassir (USA), Eugene Kern (USA), Andrey Lopatin (Russia), Ranko Mladina (Croatia), Pietro Palma (Italy), Anthony Papavassiliou (Greece), Stephen Park (USA), Alexander Pazoki (USA), Jens Ponikau (USA), Hamed Sajjadi (USA), Brent Senior (USA), Heinz Stammberger (Austria), Aldo Stamm (Brazil) and Klaus Vogt (Germany).
The meeting covered a variety of hot topics in rhinology and facial plastic surgery in the form of 230 lectures, 60 instruction courses and workshops and round tables, 16 symposia, in 8 halls from 8:00 am to 19:00 pm during four congress days. .
Many new topics on a variety of subjects in rhinology and facial plastic surgery were presented by the speakers. The exciting and interesting lectures covered different aspects of most of the popular main topics such as Functional Nasal Surgery, Reconstructive Nasal Surgery, Primary and Revision Rhinoplasty, Chronic Rhinosinusitis and Polyposis, Allergy and Basic Sciences in Rhinology, Minimally Invasive Sinus Surgery, Endoscopic Skull Base Surgery, Endoscopic Orbital Surgery, Sinonasal Neoplasms, Sleep Apnea, Rhinologic and Facial Trauma, Non-surgical Facial Rejuvenation, Minimally Invasive Facial Plastic Surgery, Pediatric Rhinology and Facial Plastic Surgery.
For each of the four days, multiple sessions ran in sequence allowing a wide range of rhinologic and facial plastic surgery materials to be covered simultaneously in different halls.
The plenary session of the first day included lectures by Drs Jens Ponikau, Ranko Mladina and Andrey Lopatin on The role of fungi in the pathophysiology of chronic rhinosinositis, Role of biofilm in nasal polyposis and Endoscopic surgery for odontogenic sinusitis respectively.
First day workshops were held on Botulinium toxin A facial rejuvenation versus endoscopic browlift, Lip augmentation with update on current treatment modalities, Blepharoplasty, Facial resurfacing and nonsurgical facial rejuvenation with fillers.
Seven instruction courses with 90 minutes duration of each course included topics on Rhinoplasty, Balloon sinuplasty, Endoscopic frontal sinusotomy, Septal deformities and cleft lip and plalate.
The second day plenary session lectures included New techniques in turbinate surgery, Revision sinus surgery and The Graz CT check list by Drs Anthony Papavassiliou, Brent Senior and Heinz Stammberger respectively.
Drs Aldo Stamm, Heinz Stammberger, Brent Senior and Andrey Lopatin presented their experience on endoscopic skull base surgery during a round table of the same day.
16 courses instructed by world masters on rhinoplasty, endoscopic sinus surgery and endoscopic skull base surgery during the second day.
Management of the oversized nose by Dr. Pietro Palma, Cervicofacial rhytidectomy by Dr. Alexander Pazoki, Update on the role of fungi in the etiology of CRS by Dr. Jan Gosepath, Endoscopic Transnasal surgery for malignant tumors by Dr. Aldo Stamm, Pearls of Otoplasty by Dr. Alexander Pazoki and tip projection techniques by Dr. Fazil Apaydin were third day plenary session lectures.
Round Table on Surgery of nasal valve Moderatored by Dr. Eugene Kern and contributed by Drs pietro palma and Fazil Apaydin by discussions on Nasal vault flaws, From analysis to result and Grafts for valve surgery.
Endoscopic DCR, Powered Instrumentation in FESS, Image Guided Surgery in sinonasal, orbital and anterior skull base lesions, New Classification and Guidelines for Endoscopic Management of Skull Base Defects and Transnasal Endoscopic Surgery of Benign Sinonasal Tumors were instructed during advanced FESS courses by Dr. Reda Kamel.
Three Instruction Courses were presented by Dr. Heinz Stammberger in the third day which contained Endoscopic Anatomy as Relates to Complications and their Avoidance, Endoscopic Rhinoneurosurgery and Orbital and Optic nerve Decompression. Dr. Aldo Stamm presented Endoscopic surgery of the Frontal Sinus and Recess in the third day. more